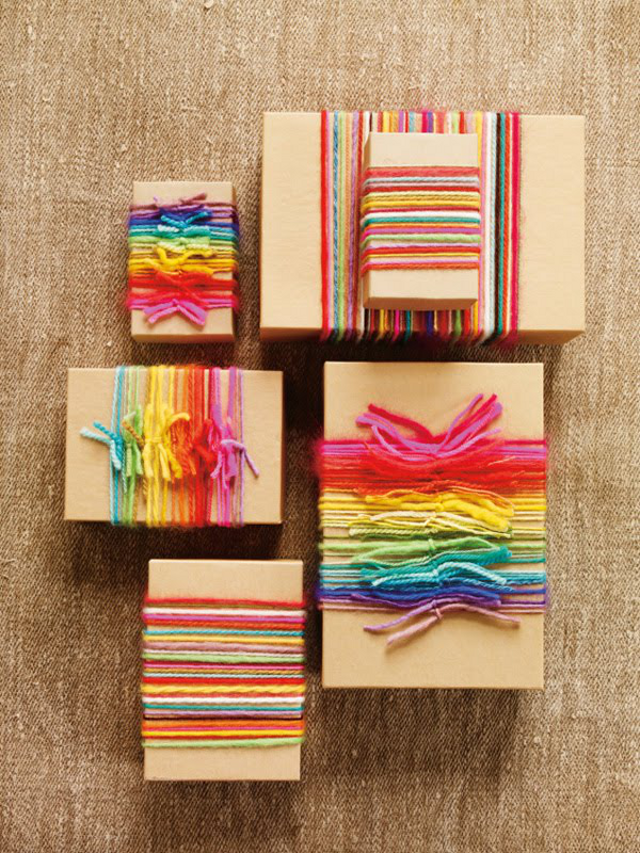 Brown paper packages tied up with string? Easy. Classic. Understated. Brown paper packages tied up with a spectrum of bold, splashy colors? Easy, unexpected, and one helluva way to announce just how awesome the contents of that package are! Joelle Hoverson, the author of Last-Minute Knitted Gifts and More Last-Minute Knitted Gifts, takes the simple brown box / string combo up about 20 notches with this super easy gift wrapping idea. If you can tie a knot, you can do this too!
This idea comes from More Last-Minute Knitted Gifts (page 122) and all you need to create your own rainbow-inspired* gift is an assortment of colorful yarn. Wrap each length of yarn around the box once, tie a knot, and voila!  You've got one super rad gift just waiting to knock the socks off that special someone.
* While I love the rainbow approach, this idea is easily customizable – consider using colors that coordinate with the event (wedding, baby shower, the recipient's favorite colors, etc.)!
(h/t Oh Happy Day)